I was very excited to participate in the Kids Exchange Consignment sale this month. By selling items, I got to shop early before the sale was open to the public which makes a HUGE difference in the crowds & item selection. I think this sale gets better each year - its now in 2 buildings and very well organized.
First, I got a big stack of last winter's clothes that Caleb has outgrown. I hung them on hangers, priced them and dropped them off at the Fairgrounds. I tagged about $160 worth of clothes and brought home less than a 1/3 of what I dropped off. I won't get my check for another week or so but I'm optimistic!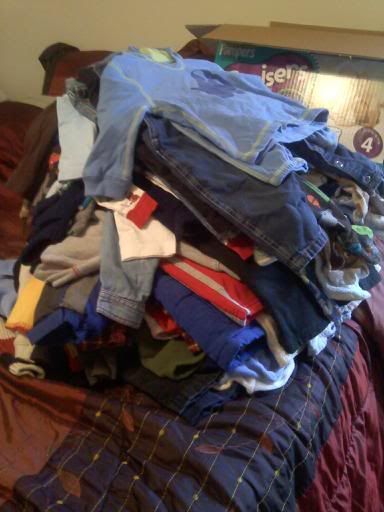 Here are a few pictures of our adventure shopping. Caleb had a ball playing through the field of toys, and then crashed in the stroller while waiting to check out! I only spent $60 on that huge stack of clothes, the bike seat and a big bag of toys!